Discussion Starter
·
#1
·
I have a friend who lives on a lot with many trees. No surprise last years storms like Hurricane Sandy have caused a number of trees to fall.
He had most of the trees cut into lengths and then put in a pile. He has no need for these and said I could have whatever I want for turning.
This was the picture my friend sent of the pile. This was back in January. By now a few more pieces had been added.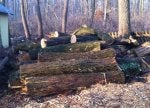 I told my friend I wanted to buy my own chainsaw. Took sometime to find a barely used Husqvarna 316E where the "E" mean electric. I did not expect to use this often and did not want to find a gas powered saw did not start when I needed it.
I picked up the saw on Thursday, then yesterday another woodworker/turner friend and I went over to cut some section for bowl blanks.
First challenge was that the almost new saw did not cut. As I was pondering this, my friend called out "Is the blade installed in the correct direction?". No it was on backwards,
A quick removal of the bar, flip the chain, re-install and voila, it cut very nicely with the chain mounted in the correct direction.
We cut a cherry log and a locust log. The friend thinks it is black locust, but his neighbour said it was honey locust. Either way, nice pieces of wood.
My friend took two of the cherry pieces and one locust. I took one cherry and two pieces of locust.
Log sections put on my saw horses to apply anchorseal. Not quite dry in this picture. Cherry is the top piece, the bottom two are the locust. The sections are about 12in diameter.
We only scratched the surface of this pile. We have a nice source for some future turning stock.