Discussion Starter
·
#1
·
Many years ago, when I first met my wife down in Florida, she introduced me to her best friend, Jan, from across the street. As we stood there talking, Jan's dad, Woody, came out of the house and stopped to chat with us as well. During our conversation Woody had mentioned the fact that he was building something for the church and could use some help so I offered to lend a hand.
When Woody opened up his single car garage I saw what had to be the tightest yet best laid out wood shop one could hope to shoehorn into a one car garage! He had everything he needed for making furniture for his home. As we worked on the church project I discovered that I too liked the pleasure of woodworking and was hooked.
Once we married, the wife and I lived pretty close to Jan and Woody and when I wasn't working in my one car garage shop I was over at Woody's in his and vice versa. Woody taught me all he knew about dadoes and rabbet joints, biscuits and dowels, mortise and tenon joints and so on. Dare I say, if it weren't for his tutelage the book case in our dining room would not exist, nor would the two in the basement, the jewelry boxes for my wife and daughters, and so on.
We since moved from Florida and have called Missouri home for the last six years. We have always stayed in touch with Woody and Jan as they are more like family than friends. While it was my wife and Jan who were always talking on the phone I would have her yell out a "Hi" to Woody and he would send one back my way. Every once in a while we would take over the phones and chat about the latest projects we were working on (mostly home renovations for me) and he'd wind up teaching me something over the phone.
A couple of years ago Woody suffered a stroke which left him with the use of only his right side arm and leg. Now, don't start with the water works as this isn't a sad story, just give me a moment! Anyways, as you can likely guess, Woody can no longer work in his little one car garage shop as it hurts just trying to stay upright for longer than just a few minutes. Jan, bless her heart, has had to put her life on hold just to care for Woody and his day-to-day needs.
Well, last month, Jan and Woody decided it was time for a break from Florida and come up and see us. The last time I had seen them was when we left Florida those six years ago and I hadn't been doing any woodworking whatsoever! In fact, it wasn't until very recently I started to rebuild my wood shop in my garage because I missed it so much. When Woody got here he asked to see how I was coming along with my shop and could he see it.
When we stepped out into the garage I could see in his eye that he missed working in his shop but, as mentioned, his condition just does not allow him to work with the tools. I did, of course, have him out there with me while I was working on another portion of the shop to sit my RAS in and was setting up an area for the band saw and planer whenever I can afford to get them. Woody, as usual, was full of good advice in helping me get things set up. "You know, Woody, you could always teach woodworking back in Florida. We still know plenty of homeschool families that would love to have some sort of craft for the kids that don't include yarn or quilting hoops! All you need is one of the older kids to work as an aid after you teach him." No answer.
Now, we here in the St Louis area are pretty lucky in that we have both a Rockler and Woodcraft store as well as St. Charles Hardwoods and a couple of other woodworking suppliers pretty close. While he was here Woody and I went to all of those places and pretty much just browsed around and I did get parts for my old lathe.
They have since gone home and when they got settled back in to their daily routines, Jan hurt her back. My wife told her that we would come down and get Woody and bring him back up here for a couple of weeks to allow her to heal. Talk about excited! There are times when I think Woody had it planned all along just so he could come back up and help me out some more!
:thumbsup:
In the couple of weeks that they had been back in Florida I had decided to go ahead and make good on a promise I made last year to teach woodworking to home school kids in our community. When I told Woody about that he asked what projects I had planned for the kids. A simple mantle clock, an end-grain cutting board and checker/chess board were among the projects I was going to offer. "What about pens," he asked me. They are pretty simple and inexpensive to make. "Pens, what do I know about pens?" That's where the conversation ended.
Anybody remember I work mids? While I was asleep Wednesday afternoon Woody asked my wife to take him to the Rockler and Woodcraft stores. No-one said a word to me about anything when I got up and left for work. When I got home Thursday morning Woody asked of we could head to the garage and when I looked at my wife she had this little smirk on her face that always means she knows something I don't.
We get out to the garage and I discover that crazy old fart had decided teaching others wasn't such a crazy idea after all and guess who his first students are? That crazy old fart went out and bought all the stuff he needed to teach me and my son, Jake, how to make pens and then informed me that when we were done it was all ours so we could add pen turning to our curriculum! Okay…I cried a little because you just don't see that kind of selfless generosity that often these days.
The pictures will be slow in coming since he can't stay in the garage for too long without hurting so bear with us.
Some of the tools and supplies...
Mandrel, bushings and pen guts (I know, pen kits)…
Some of the acrylic blanks my son chose…
And the wood blanks Woody chose…
Today Jake learned how to use the drilling jig/press.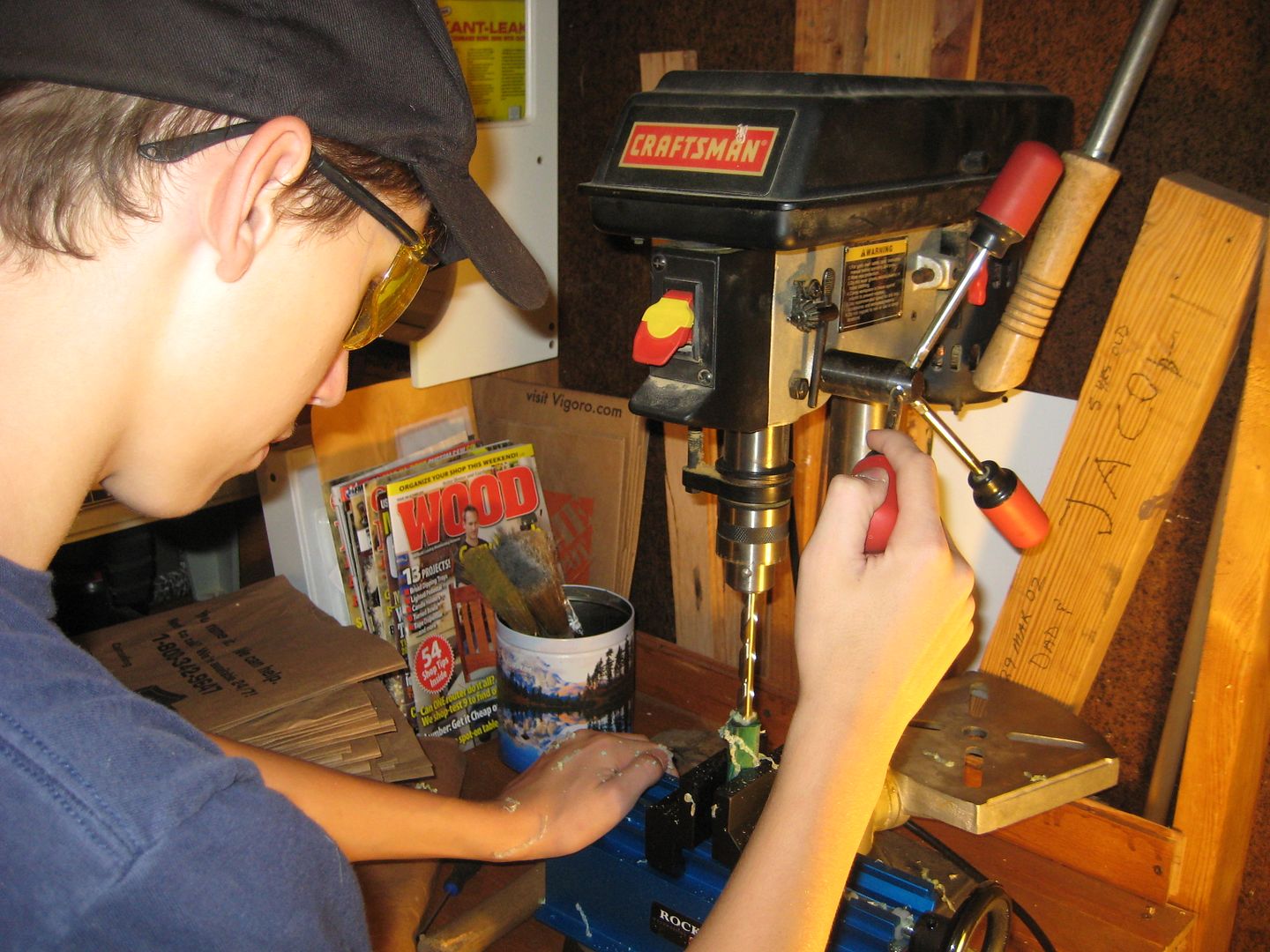 And, finally, my mentor, Woody.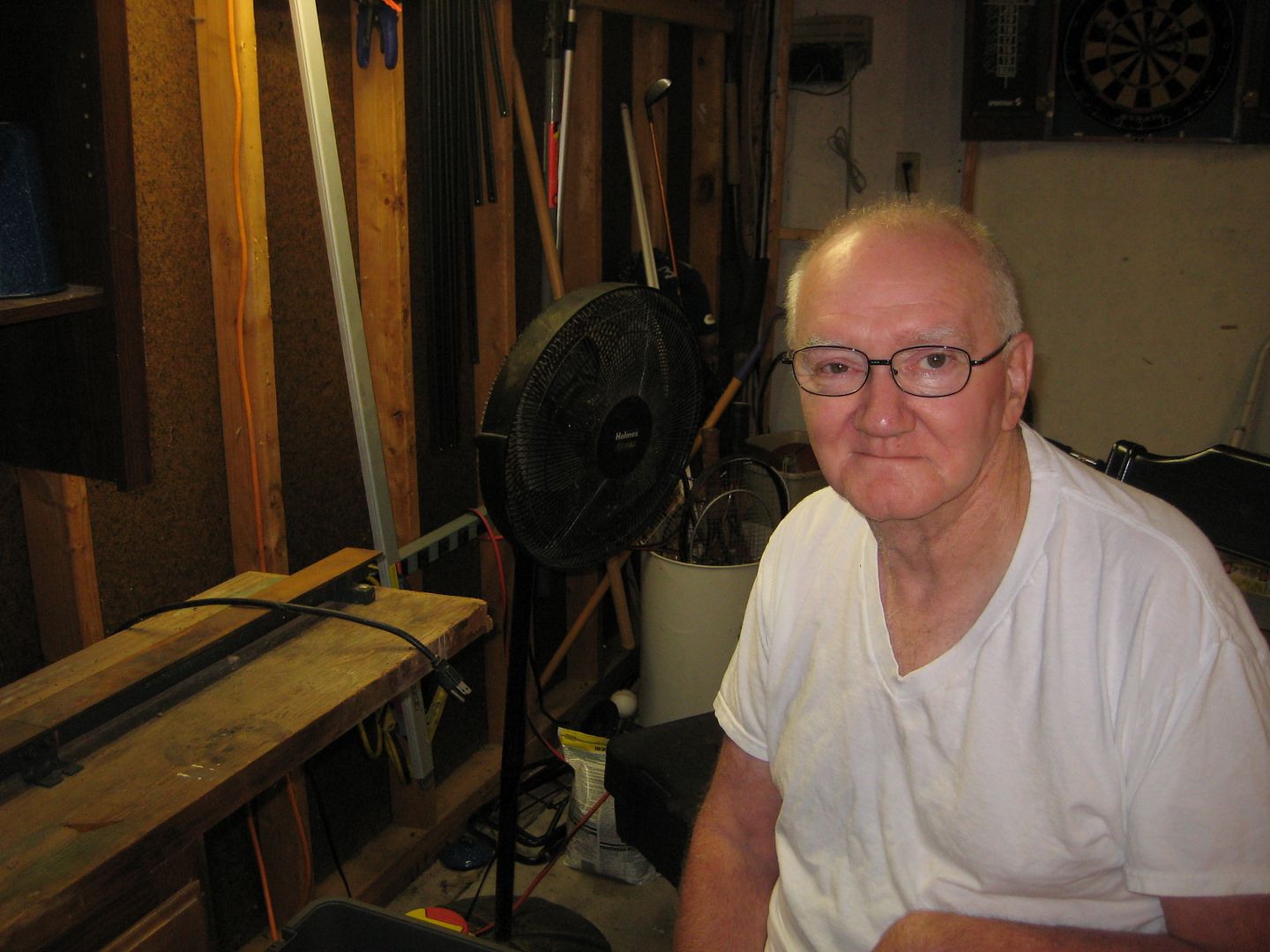 More to come...
Mac