Discussion Starter
·
#1
·
I recently cut up a length of Oak into 45 deg miter cuts and some of the angles were a hair off.
I believe the saw is accurate, but it might have been the board wasn't so straight. I didn't run it though the joiner like I should have because the pieces were small and I didn't think it would mater much. So I was flipping the board over for each cut to save wood and avoid changing the saw position. Well one side was perfect and the other was just a hair off probably because the board on the other end was a little warped.
Plus I had the glass cut at Lowe's and I discovered that after two separate glass projects their gutter is not a true square. If I would have known that I would have compensated for the length of cuts so I could at least get the frame square.
Anyway I was thinking that if I had an accurate way of sanding the angle true, I would be able to fix them when they pop up. I was looking at a porter cable bench sander, but I already have a HF 6" Belt sander only this looked a little more accurate.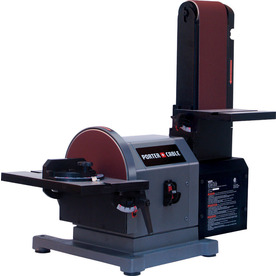 Then I stopped at HF and saw this 12" disk sander for much less money and looks even more accurate.
So what do you think? Anybody use one of these bad boys for miter joints?