Working with cypress in this tone:
We are trying to achieve this luminescent tone and finish: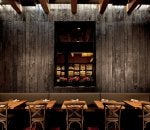 The person who did this actually burned the boards and cast them in resin. They are actually completely charred black but appear silvery gray in the light. We would like to achieve this silvery gray color without having to use lights.
Do you think dissolving metallic paint, thus producing a custom stain would be the approach? Then seal it in resin to enhance the glossy effect. Looking for a complete cast seal also, this is for a commercial application and don't want anyone to get a splinter.
Thanks in advance