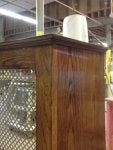 Made to cover a behemoth old steam radiator in a Victorian home that was getting new flooring. Stain is a custom blend of about 4 colors to match the flooring. Finish is gloss spar varnish. Sorry for the crappy pics guys
Had to do some very delicate scribing to make this unit fit tight against the funhouse-quality bagged out plaster walls. They were so bad I actually made & scribed in a plywood mock-up, then disassembled it & used it for patterns.
That's the leg
And that's the top.
I cut within 1/4" of the line with a jigsaw, then clamped the pattern on & routed. Had to run the router backwards to keep the hickory from tearing apart & splitting on the grain.
My phone was dead when I installed it, but I'm glad to say that in the end, it fit like it grew there ;-) I have to go back to make a template for some old crown molding the homeowner wants reproduced, so when I do I'll get an installed pic.