Discussion Starter
•
#1
•
I finally finished this restoration of my grandfather's guitar. He passed away in the early sixties and for forty years the whereabouts of his guitar was a thing of legend. It was the one thing he was most remembered for, so long after he passed it wasn't a surprise that one out of his eight kids kept mum to being the keeper of the six string...
After a little prodding and many inquiries with the family, I was one day offered to have it since I was the only member of our huge family to actually play. Unfortunately the guitar was never kept in a case, and was actually handed to me in a black hefty bag.
The finish was crackled from water damage, the neck was bowed, and most of the hardware was missing. Fortunately there were no cracks in any of the wood parts so it was mostly a cosmetic makeover with the exception of adding a truss rod, which this guitar never had.
I knew little about archtop guitars, so I did a lot of reading online and asking the local guitar tech a lot of dumb questions..:blink: I've always wanted to build an acoustic, so this was a good primer considering it was mostly a makeover, but gave me an idea of what goes into guitar construction.
This is pretty much what it looked like. The neck mysteriously straightened itself out after being stored in an actual case for the last two years since I originally acquired it. +1:thumbsup: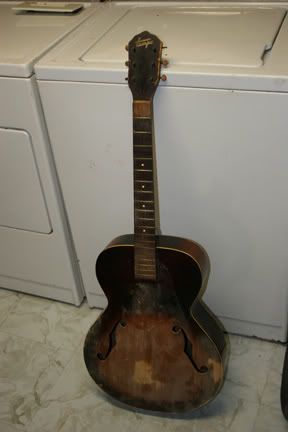 After a lot of sanding I was shocked to see there was actually a pretty decent figure underneath what seemed like ten coats of varnish. Believe it or not I only nicked one little area in a bad way with the orbit sander. Hand stripping was out of the question, I had a very small window to get this thing finished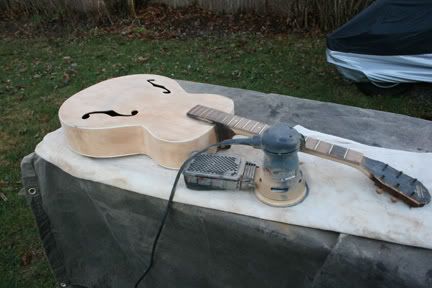 After a couple coats of sanding sealer it was time to remove the old fretboard with a heat gun and some patience.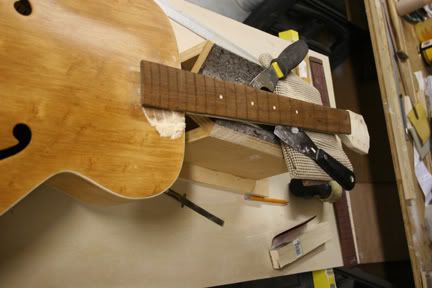 Some leveling and filling of the neck to prep the surface for the new fingerboard
A new rosewood head stock veneer shaped out of a 3/16 thick blank.
I reshaped the headstock on my drill press with a barrel sander to sharpen the lines that were mostly missing.
routing the groove for the truss rod...
new fingerboard being glued up
board got fretted, holes drilled for new tuning machines, abalone dots cut in and a new string nut that I didn't have the right files for so they are temporarily notched close to where they should be, but somebody else will do the final set-up for me.
shaping the new rosewood bridge to the contour of the soundboard
A rattle can black lacquer finish on the neck. The neck was poplar and ugly as hell no matter what I did to it...so it got a nice paint job and wet sanded up with 800 grit.
All dressed up with new tail piece and strings...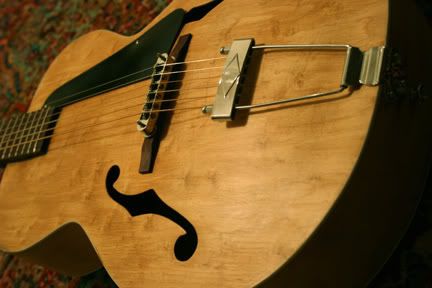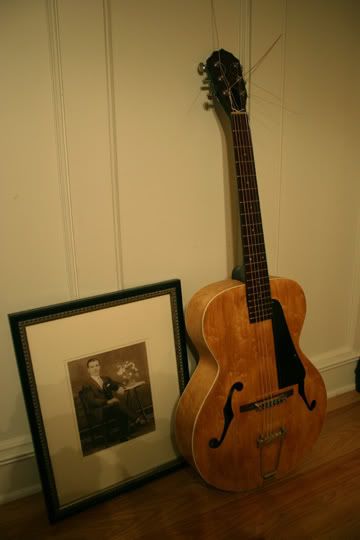 The man and his guitar...