Hey guys (and gals).
I'm working on a small project for a friend. It's a yarn swift used for knitting. Basically it's a lazy Susan with arms. Pegs will go into the arms to wind and unwind yawn. I get a nice handmade scarf out of the deal!
Here's the work in progress: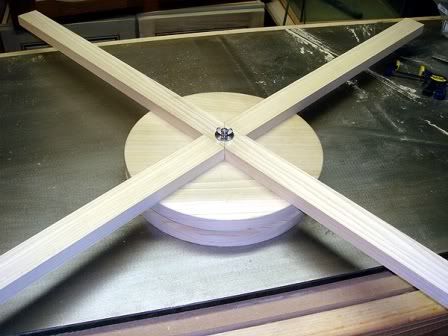 I'm by no means an expert when if comes to finishing so I'm looking for some direction here. And this is my 1st time working with Poplar.
I would like a natural satin finish (no stain). A "smooth as possible" finish is important since this will be used with delicate yarns.
So I'm looking for suggestions on sanding and finishing. Brush or wipe on? Oil or water based? What to do between coats? What to do after final coat (wet sanding? Steel wool?)...
Give me a quick step by step to produce the smoothest satin finish possible…
And I'll post some pics of the final results!
Thanks!