I finally figured out what I was going to do with the top shelf at this point. I had to cut a rabbet into one of the top rails that didn't run the full length. Thinking dropping a piece of wood down onto a spinning dado stack would not be the best idea, I cut it using my router and the squared the edges with a chisel.
The top shelf would not be supported by legs towards the front, only the two on the back. I found the mortise and tenon joints I made were pretty damn strong as it was, but I felt more support was warranted. I cut out a couple curved corner pieces to fit underneath the top shelf. I wanted to do some scroll work with this project, plus I really needed to because I used it as justification to purchase a scroll saw. So using Kenbo's YouTube videos I made my own pattern.
Here it is glued to a scrap piece. It was the first time I used a scroll saw and was mostly happy with the results. The second and third time would be on the two real pieces.
Done! I actually went back and cleaned it up with tiny spindle sanders with a dremel tool.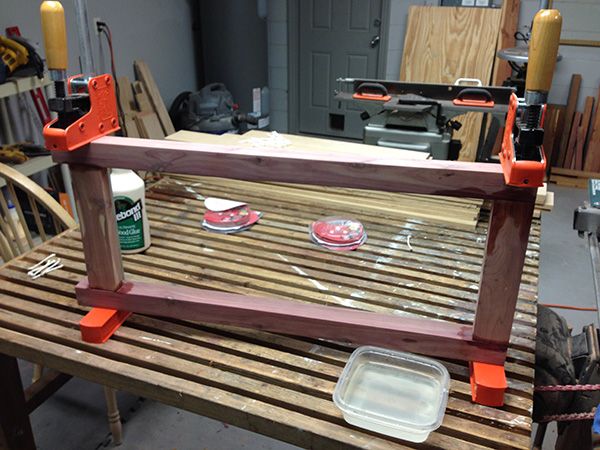 Starting the glue up process! I sanded each rail and leg involved in the section I was gluing up and blew out the mortises to ensure the dust was out of it. I learned quickly the power of a ROS with 80 grit. I used such a low grit because I wanted to refresh the color of the cedar as it started to brown by this point. I went back and used 150 and 220 grits. I mentioned the power of the ROS because I caused my M&T joints to not be square because I caused a divot in the leg by the mortise in my efforts to sand off the pencil marks. Before each section I tuned the joints to fit as perfect as I could so this was quite a shock. Luckily I learned on my first piece which would be against a wall, and it really wasn't all that bad.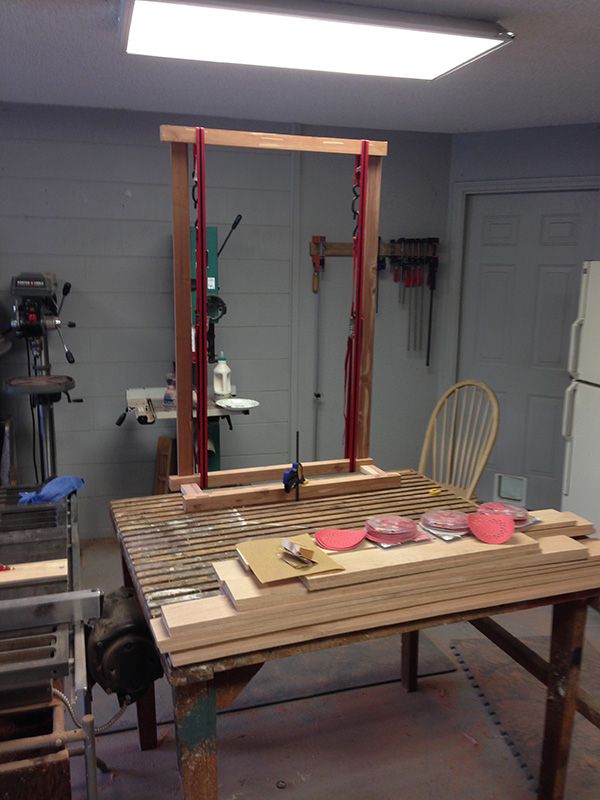 I had to get creative with some glue ups. This one even my long 48" parallel clamps couldn't reach. With quite a bit of money recently put into my shop on some tools, I didn't want to go out and buy longer or pipe clamps, so I made due with some ratchet straps. It actually worked well.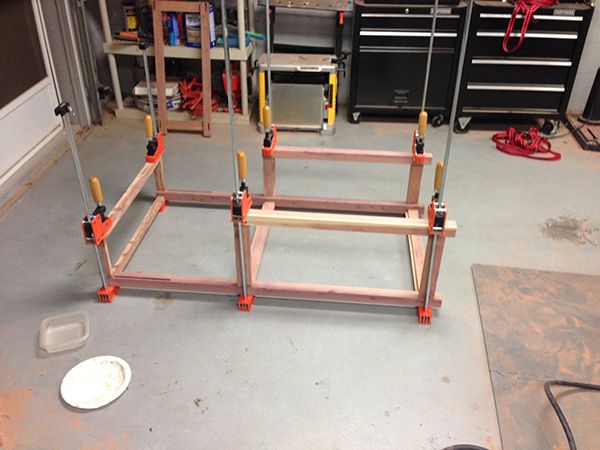 You can see the long mortise joints I made for the corner supports here. I didn't realize until I was fitting the first one that I really didn't have to make it the full length of the piece.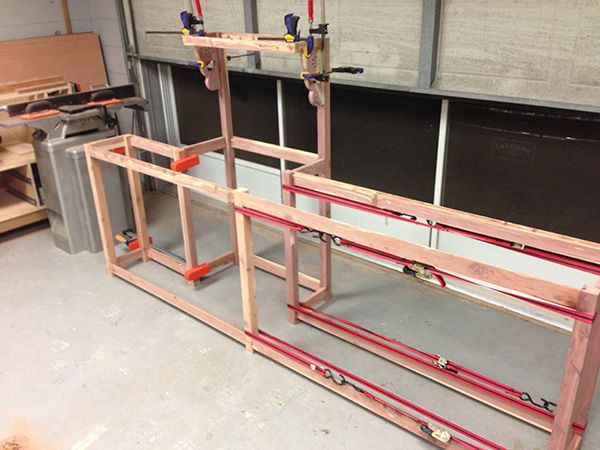 The last of the frame gluing up!
This is the first picture I have with the white oak. I don't have any pictures of milling and resawing the white oak. I purchased it in 4/4, edge and face jointed, planed the other face just until it was flat, and then resawed each piece in half. This allowed me to simply plane the band saw surface since I had a flat face on both halves to reference. The fifth board in was one of the trickier ones: it involved the band saw and scroll saw.
Dry fit all of the slats. If you have a keen eye you will see that the slat I mentioned above is now in two pieces. When I went to cut the same slat for the bottom shelf, I realized I would not be able to get it into place because I could not drop it in from above. So I ripped it down the middle and created a gap the same size as the rest of the gaps. I'm not overly happy with this change but my wife likes it. She likes symmetry however so I did the same with the top slat.
Starting to glue up the slats. I used what I believe are cauls to help spread the pressure across the slats into the rabbet.
More gluing up. Reaching the end soon.
Finish! I used General Finishes outdoor oil. I cleaned up the excess glue and wiped on the oil. I spent quite a bit of time deliberating between finishes. In the end I choose the oil, even though I know it doesn't have the greatest protection, especially against scratches, like a spar varnish would provide. I went this route because I came to terms with that it is an outdoor plant stand. I like that I can re-apply the oil without having to sand. It offers great UV and water protection which is what I was mostly concerned about. However, it's under a porch so it will mostly be protected from both of those elements.
In its final resting place. My wife will be placing her orchids and other outdoor nick knacks on it tonight.
I hope you enjoyed the pictures and comments. I learned a lot during this project, both in woodworking techniques and shop tools/organization. During this process I actually purchased quite a number of tools (some of which you can actually see in the progression of photos above.) My next project is to run electrical and to mount my DC and run duct work.