I thought I would share with you my first project. It took a little less than three months to complete. I'm not sure how many hours I actually have into it though as I mostly worked on it on weekends and maybe a couple hours during some evenings. I also went several weeks without being able to work on it due to a busy time with work.
The project started off with my wife expressing her want for a plant shelf in our front entrance way to hold her orchids. The shelf was originally planned to just fit between the column and house, however, we decided to have it come out further past the column and along the entire side of the entrance way.
This project included a lot of firsts for me. I'm working out of a 22x20ish double car garage (thankfully I have dedicated use of it.)
First purchase of rough lumber
First time using a jointer and planer to dress rough lumber
First time making mortise and tenon joints
First time resawing on the bandsaw
First time using Sketchup to design the piece
First time making my own scroll pattern and scrolling a piece
First time applying a finish
Without further ado, let's get to the pictures!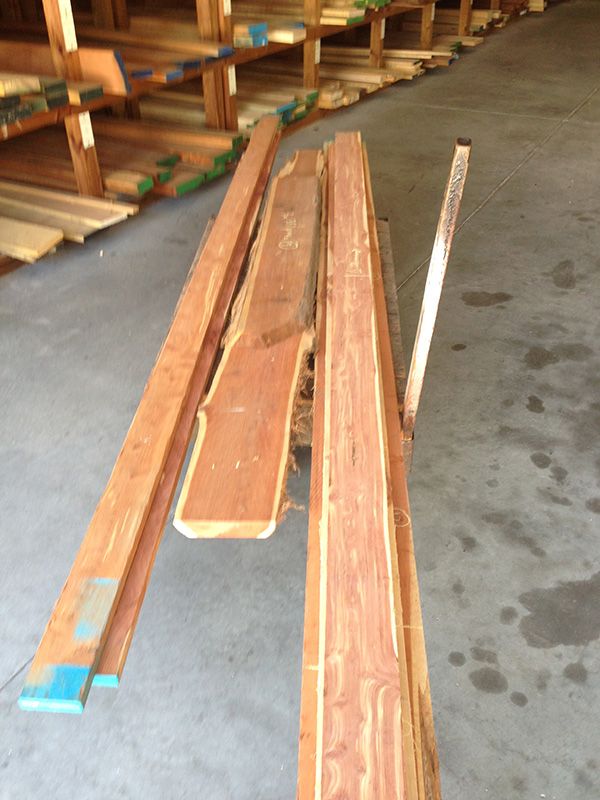 The plant stand would be made out of eastern red cedar and white oak. I originally planned to use ERC for the entire piece but decided to change it. The cedar would be for the frame with the white oak being used for the slats. The slats would only be 3/8" thick so I wanted a strong wood and my wife liked the contrasting woods. I purchased the cedar first, and luckily my local yard had some 8/4 slabs in stock for the legs that would be 1 3/4" square.
My first task was dressing up the 8/4 slabs to make the legs. I used a circular saw to cut off the bark, jointed a face & edge, planed the other side to rough thickness, and then used my table saw to cut the legs. I had enough 8/4 to do all but a couple legs, so I would do another first -- face joining boards.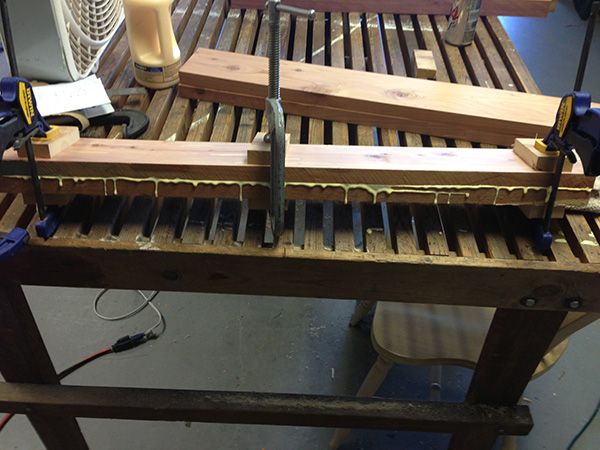 This was my first piece that I've ever really glued up and I read to make sure I use enough glue. I think I did. I wasn't overly worried about it because I had made sure I had enough room to be able to clean up the edges and get the two legs I needed out of it. It worked well because I didn't have to make sure they were perfectly aligned either.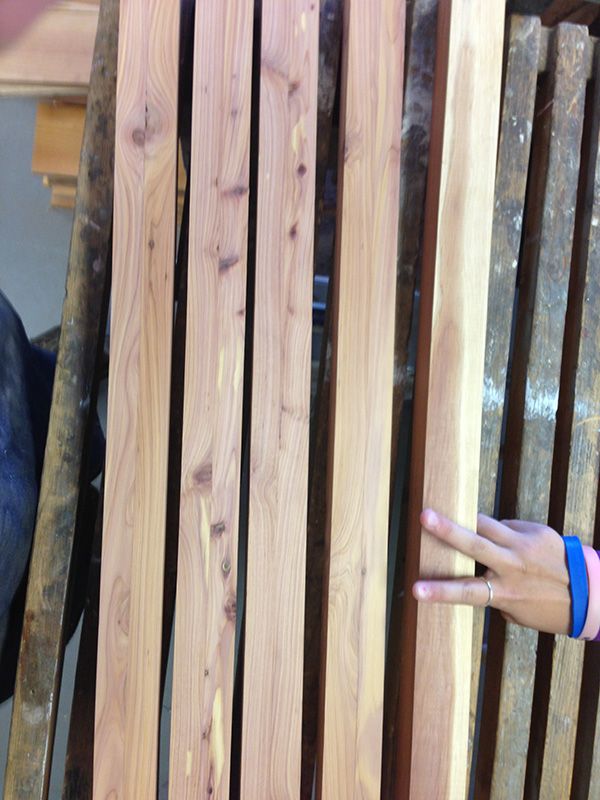 The completed legs. The bottom four are faced jointed ones with the joint up. The top one with my daughter's fingers on it is from a solid 8/4 piece for comparison. I think I could've gotten an even better joint if I used more clamps, but I was quite happy with what I got.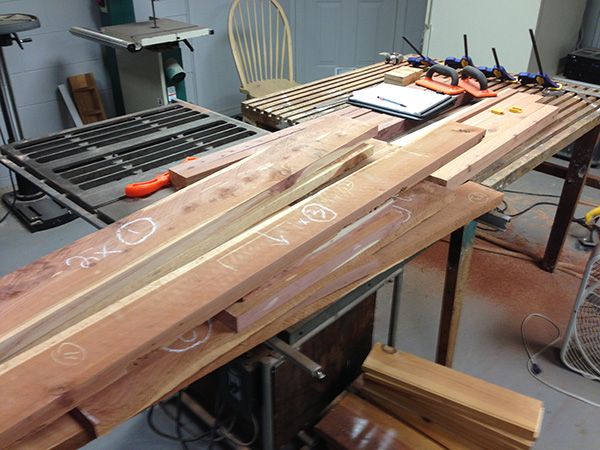 Next step is to dress up and cut the rails. Here is the stack that's been rough cut to length and ripped using the circular saw to rough width where the boards were wider than my 6" jointer. You can see my solution to ripping them to acceptable widths at the back of the outfeed table.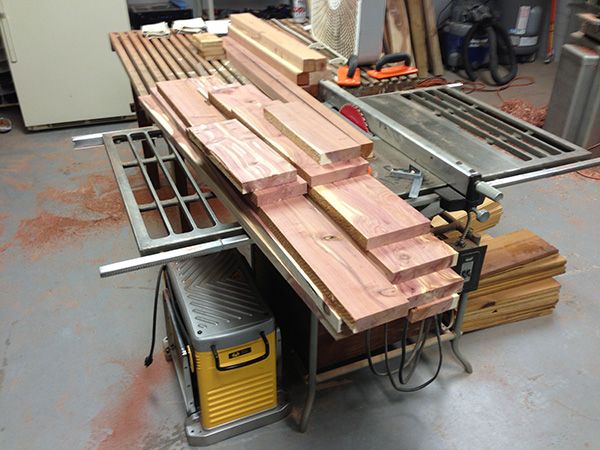 After face and edge jointing and planing to rough thickness. Three sides ready to go! I cut the rails to width using the table saw, but I do not have a nice stacked picture of them completed.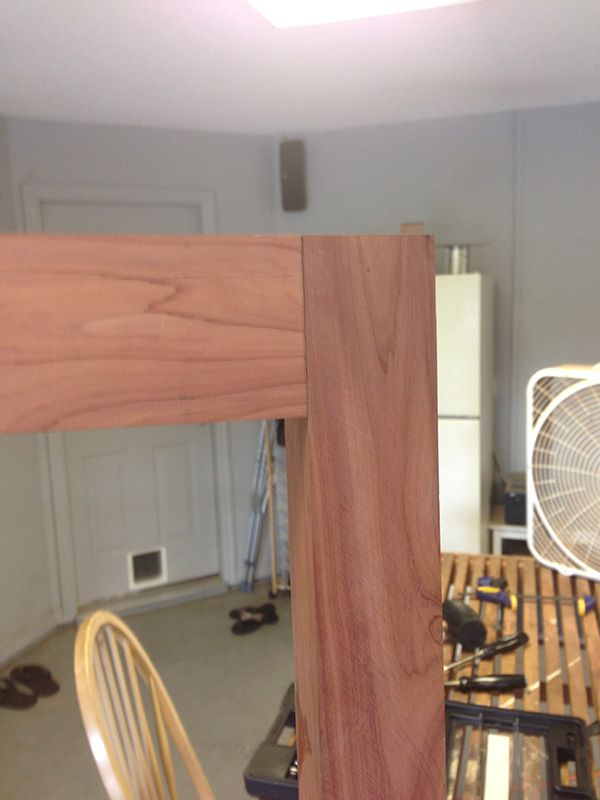 Mortise and tenon joints! Lots of them! The stand was completed without a single piece of hardware. I used my table and band saws to batch out the tenons (later I would purchase a dado stack which I sure wished I had at this point.) I got mixed results with my joints, but most were acceptable if not near perfect. This one was my first (ever.) The mortise was drilled out with my drill press and squared with chisels. Going back and counting, 44 mortise and tenon joints were made.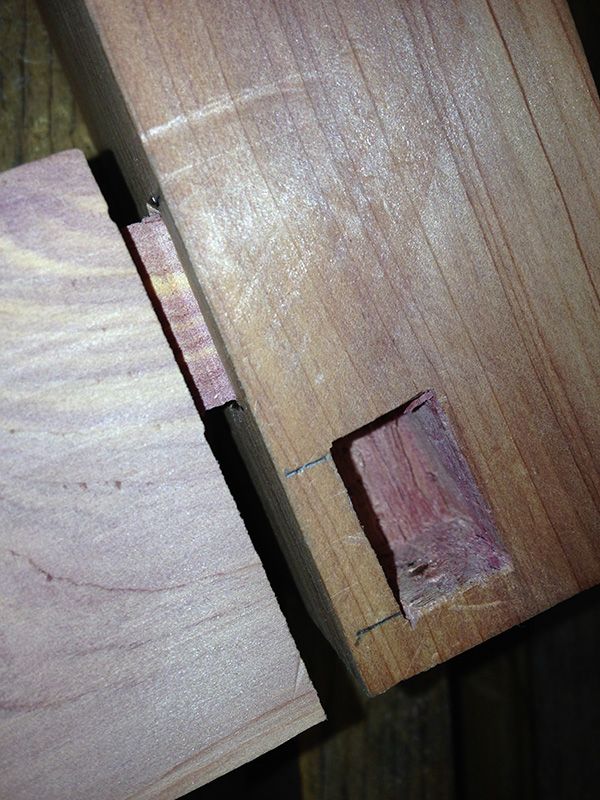 On the inside legs where rails would be coming into the leg on the same corner I had to cut the tenons to half the width to ensure they didn't interfere with each other.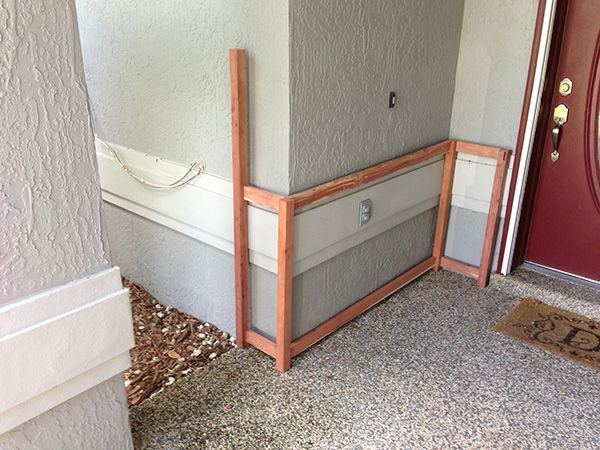 I started to assemble it here. You can get an idea of what it'll shape up to be now. This was after my biggest mistake. I have a tendancy to get ahead of myself and make stupid mistakes that are easily caught if I just slow down and check myself. I made the mortise in the back left leg on the wrong side of the leg at the bottom (it is pictured correctly here). My wife helped me cut a piece of cedar to fit into the bulk of the mortise and I glued it in and sanded it down. Not perfect, but it would help keep the water out and it would be covered by the slats anyway.
Rough, dry, and loose fit, so don't critique my joints based on this one. I hadn't done the top shelf yet mostly because I wasn't sure what I was going to do then. The next step is to prepare the rails to accept and support the slats.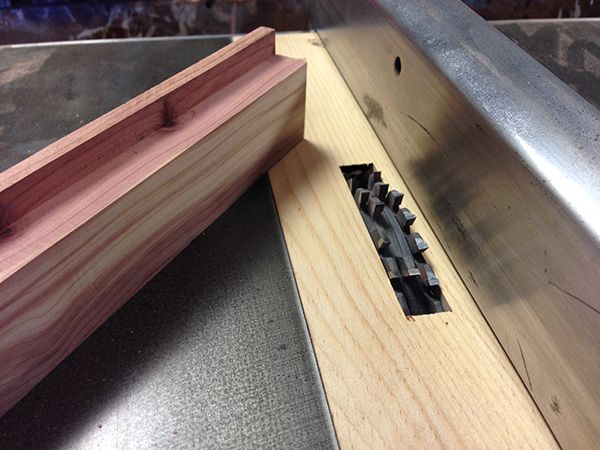 Ah... my new dado stack! This made making the rabbets a breeze, but I sure did double and triple check myself to make sure I was cutting the rabbet into the right side of each rail piece.