Hi Guys,
This topic has probably been beaten to death through the years but I thought I'd throw my 2 cents in. I got to reading about smaller dust separators and decided to try the Oneida Dust Deputy after seeing a test on a Wood Whisperer video. The price for the DIY version is down to $39 + shipping so I got one for about $50 total from Woodcraft. If you have a Woodcraft store near you I'd guess you could avoid the shipping.
Anyway, the unit came quickly and was packed well. Unlike reports I'd heard about earlier models, this one seem to be solidly constructed. The top was on securely and it seems to be somewhat impact resistant (I didn't beat it with a hammer or anything, but it looks like decent plastic).
Though the approximately 2" OD tapered inlet and outlet ports fit a lot of shop vac hoses, they are too small for 2-1/2" dust collection hose. I solved this with a Fernco PQB-215 rubber pipe bushing from Home Depot. After cutting it's inner lip off with a utility knife, it slipped over the DD's tapered ports. I slid it on until it expanded to just the right diameter to clamp the 2-1/2" hose. Problem solved for $1.80 per bushing.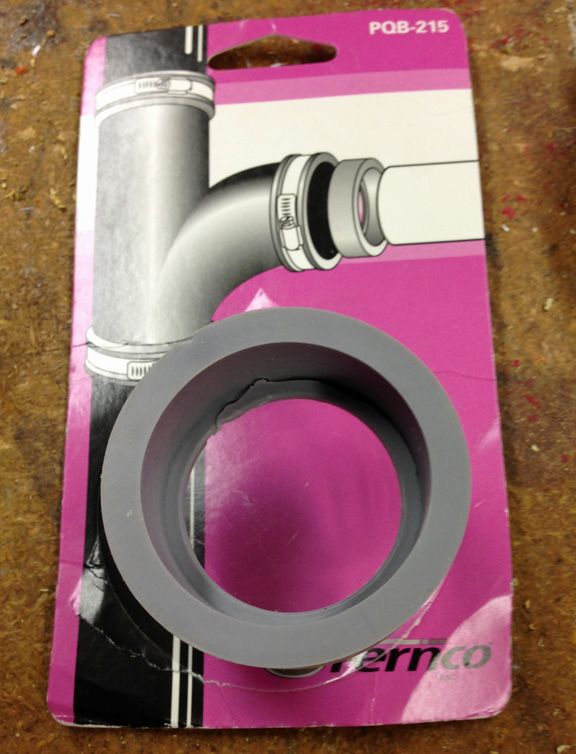 Bushing with the lip cut partway off.
2-1/2" DC hose installed with the bushing - you can see the other bushing on the inlet.

It's too bad that they don't make a DD that has slightly larger ports. If they were the right size to fit a regular 2-1/2" dust collection hose without a bushing, I'm sure there would be better air flow.
For a container I got two of HD's 'Homer Buckets' and one sealed lid. I figured the advantage to using one bucket inside the other was that it would help prevent the top dust bucket from collapsing if there was too much vacuum, plus the space under the top bucket would be a good place to put sand to act as a weight to help prevent tip-over. Incidentally, the lids seal really well.
I cut a 3" hole in the middle of the bucket lid with a big Forstner bit and used the DD as a pattern for the 6 bolt holes. I made a 3/8" plywood ring of the same pattern for the bottom of the lid to stiffen things up a bit, then bolted it all together using silicone sealer to seal the DD to the lid.
For testing I tried two things. One was putting the DD on a small (7.3A) Ridgid shop vac that I hook up as needed to my belt/disk sander, miter saw and router table. All three tools are adjacent so I just switch the vac's hose around. First I emptied the vac and put a new filter in it. Then I sanded some plywood on the disk and belt, then chopped a 1x6 a bunch of times on the miter saw. There was a small amount of fine sawdust in the DD and nothing noticeable at all in the vac or on the filter. I was impressed.
Next, I did a tougher test. I hooked the DD up between my DeWalt 733 planer and a larger 5HP Ridgid shop vac (emptied but with it's old filter). Surprisingly, the DD did quite well. I milled a 5" x 3' maple board and after 5-6 passes I had an inch or two of chips in the DD and just a spattering of chips in the bottom of the vac and on it's filter. There was some minor spitting of chips out the front of the planer, however, I get a little of that without the DD.
Dust Deputy connected to DeWalt planer. If I would make this a permanent installation I'd replace the black vac hose with larger DC hose and use a 20 gallon trash can.

Chips in shop vac after planing a board.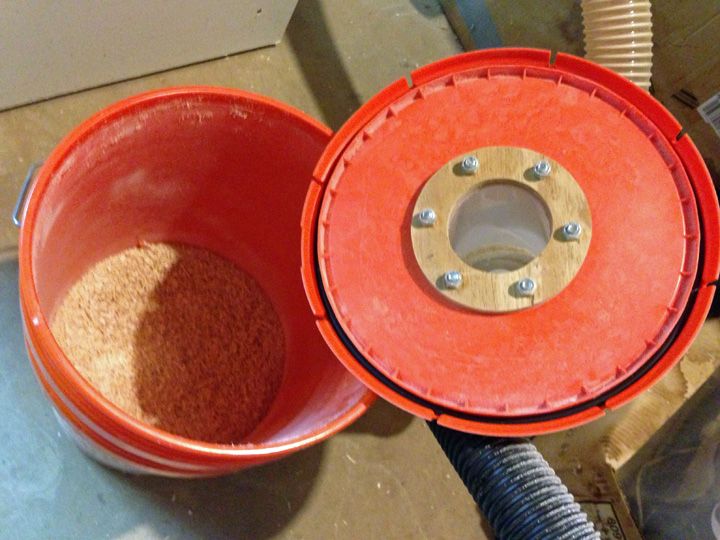 Chips in DD bucket after planing. You can also see the DD installation on the lid.
Overall, I''m impressed. I don't know whether I'll get another DD for the planer and jointer, or construct a Thien type separator like Kenbo just did. Whichever I do, I plan to use a 20 gallon trash can for a container as a 5 gallon would fill up real quick on those machines.
Bill