Discussion Starter
·
#1
·
When LOML and I decided to get married, we had planned to rent a hall for the reception. About 3 weeks before the wedding, we decided why not just have the whole shebang right in our home. Well, we had about 50 people invited, and one friend was a notary, who would marry us. It was a really neat idea, sort of warm and fuzzy, except for the fact that our kitchen was a disaster. By the time we decided to use our home, I had about 2 weeks start to finish before the wedding. I had all the cabinets installed the day before, and was still hanging doors until 2:00 AM. All the upper cabinets are 34" high. All the drawers are 22" and on full extension slides. The pictures aren't that good, had a flourescent light hue to deal with and there were some random spots that don't belong. This was in 2001, and these were taken with a 35mm, and I'm not a good photographer.
The kitchen is on three walls. My wife likes clean looks that are easy to wipe off and she wanted laminate. She doesn't like raised panels (glory be). This is the North view, and there is a pull out trash drawer to the right of the stove.
.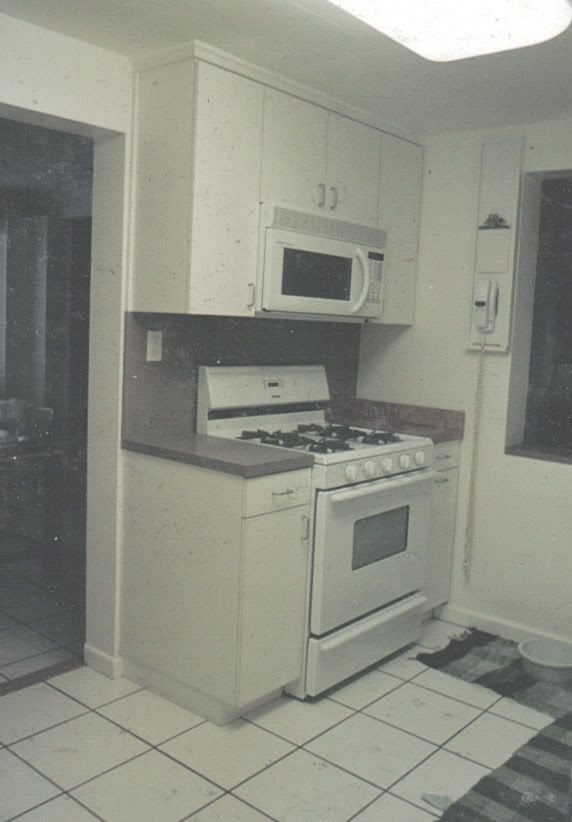 .
This is the south view, and the curved cabinet end to the right was done as a design elelent, and to give a more open traffic way. The little curved shelves at the right end of the upper cabinet was to break up some of the monotony and to match the same curved on the West wall.
.
.
This is the West wall. The large drawer in the base cabinet in the middle is for the large dog food bags. The two drawers to the right are for tall items like cereal boxes, tall bottles, etc. The curve at the left end of the base cabinet compliments the opening to the kitchen with the adjacent wall (South) cabinets' curve. The little curved shelves in the upper matches the South cabinet also.
.