Router table zero clearance fence
---
I've read that passing wood through a router too slowly can cause it to burn the wood. I've had it happen a few times, too.

I've also read about guys who make zero clearance sacrificial fences for their router tables to prevent tear out sometimes.

Wouldn't having one of these fences with a cutout fitting so tightly on the router bit be similar to passing wood too slowly against the bit, and burn the fence, and more importantly, build up heat and dull a router bit down quickly?

I'm guessing the answer is to raise the bit just slightly higher than the intended height for the project, cut the opening for the bit this way, and then micro adjust the bit down again so it avoids this problem.....right? This would work for the top side of the bit, or on edge profiling bits, but on a straight bit it wouldn't help a whole lots since a lot of the cutting comes from the side edges of the carbide blades.
---
Last edited by Duane Bledsoe; 12-11-2012 at

10:15 PM

.
Senior Member
Join Date: Apr 2012
Location: Bay Area, CA
Posts: 349
My Photos
I don't think that I've ever seen a "zero clearance" fence on a router or shaper. I'm not even sure how one would be made. I have three fences for my router/shaper and use whichever one most closely fits the bit I'm using - but none of them "fit" a bit.

Feeding too slowly can definitely cause burning, but that's easily fixed by feeding faster. If you're bogging down the bit, set up to take smaller cuts and make multiple passes with adjustments between each pass.
Senior Member
Join Date: Apr 2008
Location: columbiana OH
Posts: 705
My Photos
You may be talking about two different things. The zero tolerance piece usually helps with "tear out" on the back side of the board.

If you run a perfect board, through a perfect router, perfect fence, etc... and pause... you will still probably get a burn mark on the board. Most folks try to keep the piece moving throughout the entire cut :-)
here's one
---
The fence is either rotated into the cutter at the desired height OR the cutter is raised into the fence until it's at the desired height. A cutter with a return can't be done in that way however to get a perfect zero clearance opening;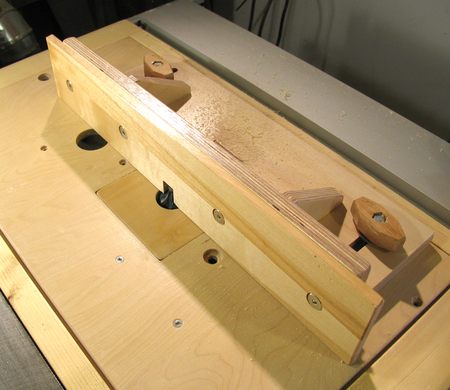 ---
The answer to your question will only be as detailed and specific as the question is detailed and specfic. Good questions also include a sketch or a photo
The ZC fences I've read about we're made by adding a sacrificial fence in front of the permanent fence and then pushing it into the bit as it was spinning so it cut a slot into the fence in the shape of the bit. It was a tip I read in a magazine, I'm thinking it was Wood Magazine or one of its special publications. I thought it sounded like a great idea and figured the best way to do it was to use MDF, but now I'm thinking of whether or not it would dull my bits with the blade just spinning inside the opening of the fence that way. Seems this would build up heat with the opening being so close on the bit's cutters.
---
Last edited by Duane Bledsoe; 12-12-2012 at

07:27 AM

.
Senior Member
Join Date: Apr 2012
Location: Bay Area, CA
Posts: 349
My Photos
Quote:
pushing it into the bit as it was spinning so it cut a slot into the fence in the shape of the bit.
What about clearance for the guide bearing?
Do it if you feel you must, but I won't be trying it. Holding that sacrificial piece in place while it's pushed into a spinning bit seems like quite a challenge. - lol
Senior Member
Join Date: Aug 2010
Location: Maine
Posts: 1,931
My Photos
Zero clearance isn't quite accurate, more like "very close" since you don't want the bit rubbing on the fence opening. The purpose isn't to reduce tear out, it's to prevent the workpiece from being pulled into the opening of the fence. When you run short or narrow pieces, such as coping the ends of stiles and rails or routing small parts, they can tip into or catch on a wide fence opening as you make the cut. It's more of a safety and consistent accuracy of cut issue.

Most commercially bought router tables and fences aren't set up for special circumstances, although those can be very important depending on what you want to do on a router table. In the case of making tight fitting fence openings, only the part of the bit that projects through the fence might be tight, it's not necessary for the entire bit circumference to fit tightly.

When you do end grain cuts on a router table or shaper, you can get blow out at the exit. Two common methods are used to prevent this, either a sled or a backing block is used. It doesn't take many cuts before the backer is starting to get loose just due to debris abrading the cut area. You usually have to change the backer to a fresh surface after a few cuts. I don't like sleds on a router table for several reasons but particularly because of having to change to a fresh backing surface. However, on a shaper with larger more complex end grain cuts, a sled can be the best way to go, particularly from a safety standpoint.

I happen to be doing some stile and rail work right now. I'm using a tight clearance fence for the copes. It's nothing more than a scrap of particle board, I drilled a hole in it and fed it into the bit, with a backer temporarily clamped to the fence so I wouldn't blow out the opening. Dang piece of junk has lasted through quite a few jobs and actually serves as a reference to set my bit height. I always do the copes first and use a few incremental cuts by moving the fence. I use a backer block turning it to a fresh surface as needed. Most of the time, I just use a flat board for a fence, no need for a fence to be higher than the work and it makes it easy to connect a simple vacuum attachment for dust collection. Most of my shop accessories are simple, made from scrap, disposable and take little time to make but they work very well.

If you get burning with a router bit, either the bit is dull, you are taking too large a cut or your feed is too slow or fast. Feeding is more of a "feel" situation. It should be smooth, consistent and effortless.

I have a few pictures, cutting a tight clearance fence, an arched fence for circular work. coping with a backer block. This weeks project.
I'm not understanding this
---
What's the purpose of the stock clamped on the left? Have you just not made the initial cut yet? Please explain. Thanks.
---
The answer to your question will only be as detailed and specific as the question is detailed and specfic. Good questions also include a sketch or a photo
Senior Member
Join Date: Aug 2010
Location: Maine
Posts: 1,931
My Photos
Yes, it's a picture to show how I cut a zero clearance fence. It's a temporary backer as I feed the bit through the fence so the fence doesn't blow out. I may have to use a handsaw in addition to cut a clearance area for rub bearings. It all depends on the bit and what I'm doing with it. I only use zero clearance fences when needed, maybe it's for small pieces, end grain cuts or in situations where I need extra control, such as with circular work where you may need to do climb cuts due to reversing grain. Being in the business, I can be faced with weird situations a normal woodworker may not think about. Some accessories I make may only be for one specific job and never used again. It's not likely I'll run into an arched raised panel that exact same size, for example. Since that fence is only a flat board, I can use the other side for something else.
| | |
| --- | --- |
| The Following User Says Thank You to Hammer1 For This Useful Post: | |
John
Join Date: Mar 2010
Location: La Crosse, Kansas
Posts: 3,028
My Photos
I made some cabinet doors awhile back that needed a dedicated fence for the bit I used. I made and initial cutout in it a little larger than the shank diameter and then fed the fence into the spinning bit from the back. Not quite 0 clearance but enough to prevent the stock from getting sucked in behind it.
---
John
If I strive for perfection, I can generally achieve good'nuff, If I strive for good'nuff, I generally achieve firewood
Senior Member
Join Date: Feb 2009
Location: Tampa, FL - USA
Posts: 3,391
My Photos
For most things I do not use anything other than the router table fence, however when I'm using a special bit like the one shown above I have a throw away piece of 1/4" hard board that I've also cut to allow the bearing to pass and have shaped using the bit into a close copy of the bit profile. I clamp the hard board to the fence and make my cuts. The bit doesn't get dull, at least they haven't gotten dull on me yet and I have one bit that I've done this with for over 10 years.
---
If Woodworking is so much fun why isn't it called WoodFUNNING?
I've made a few videos
http://www.youtube.com/user/johnnie52
| | |
| --- | --- |
| The Following User Says Thank You to johnnie52 For This Useful Post: | |
I'm interested in it because I made myself a fence for my router table that has a 2 x 2 sized opening for the bit, and sometimes when running wood to make rabbets using straight bits this much larger than the bit opening lets long splinters of wood tear off as I rabbet the edges of the board, leaving me with a roughed up edge when finished.

I'd fasten the sacrificial fence to the other fence securely with clamps before doing it, or even screw it on to hold it tight.

On the subject of sucking the work into the bit opening, I didn't know this was possible. I have sometimes noticed that the end of my workpiece would sometimes catch on the exit side of the fence's bit opening as it passed by when first fed through, but I thought this was due to bowing of the wood and maybe also slight inconsistencies in the straightness of the wooden fence I made. Could it be the bit pulling it in?
I chamfer the outfeed edge
---
My fence is made from 2 separate pieces and sometimes the work hands up on the outfeed side. I chamfered/beveled the edge that is closest to the cutter so that can't happen and that worked great. This may work on your fence , I donno? I like the 2 piece fence which is on a T track because you can really close down the opening. This helps with chip collection also.
Like this:
---
The answer to your question will only be as detailed and specific as the question is detailed and specfic. Good questions also include a sketch or a photo
Posting Rules

You may post new threads

You may post replies

You may not post attachments

You may not edit your posts

---

HTML code is Off

---