Senior Member
Join Date: Feb 2009
Location: Tampa, FL - USA
Posts: 3,391
My Photos
Anatomy of an outdoor workbench
---
As many of you already know, my shop is spread out between our carport, a small shed, and a deck in front of the shed.
For the last few years I've had an all steel table sitting on the deck for use as a workbench. It is 3' by 5' and very heavy. I've kept it covered in the past with a piece of 1/2" plywood, but between the intense Florida sun and heavy rains I've had to replace the ply every year. The heavy morning dew and condensation never dried out under the wood and before long the plywood was less than useless as a work surface.
This time I decided to try something different. Loading the wife into the Rodeo, we went to Lowes where I purchased 2 pieces of 2x12 12' long a couple of 1x4's at 4' and a 6' piece of 2x4. I also bought a large tube of liquid nails (the heavy duty exterior stuff) and a quart of their Cabit Marine grade Spar Varnish.
I had them cut the 2x12's in half so I ended up with 4 2x12's at 6' each. 3 pieces would be used on the workbench and the 4th would serve as a lower shelf for the wife's flower potting table.
Now understand that I am still recovering from a stroke since June and can not carry anything over 5 pounds. So my wife and the Lowes guy loaded the truck and my 21 year old and the wife had to carry the wood from the truck to the shed.
This project took five days to complete.
On day one, after getting the wood home, I glued up three of the 2x12's into a panel using the liquid nails that was wide enough to cover the table's 3' width. I also painted the table top with some Rustoleum that I had on hand. I'll need to get more to finish painting the rest of the table legs and bottom shelf.
On day two, I cut the 6' panel down to just over the 5' length of the tale. I did this because I did not want it to hang over the end of the deck or interfere with the shed door opening. My deck is 8'x8' and I need a little over 2' of that for the door to fully open.
On day three (after I'd given the liquid nails plenty of drying time, I cut the 1x4's and glued and screwed them to the bottom of the panel to raise it above the steel table top and allow air between the wood and steel so the condensation will no longer collect and rot the wood. I also cut the 2x4 down and added the two pieces to the ends of the table top, again using the liquid nails and long screws. Then I painted the bottom with some exterior latex paint that I've had on hand for several years waiting for that next project... Surprising it was still good.
Day four begins the fun part. I turned the panel over and began flattening the surface.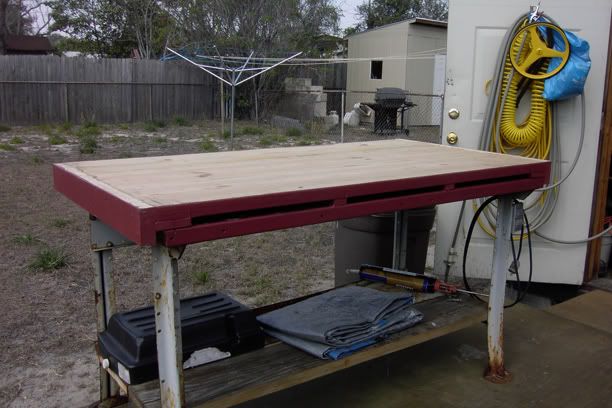 I filled the two knot holes and the valleys between the 2x12's with wood putty and sanded everything smooth.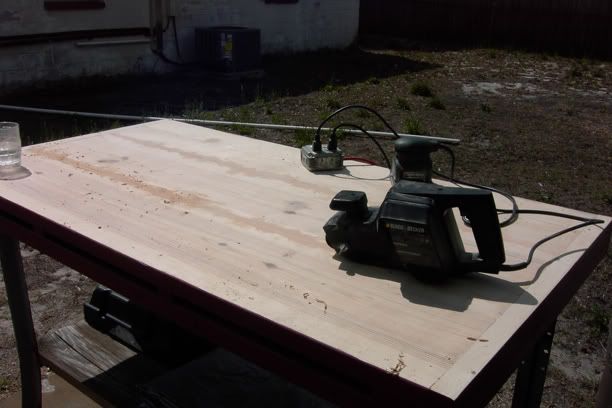 Now for most of you this sounds easy. For me it was a chore that took almost half a day! My strength is not anything near what it was before the stoke and my balance is nearly totally gone. I've improved a lot , but using that belt sander became something one might see on America's funniest home videos as it promptly took off across the table dragging me along with it!
Once I had the top flat enough for my purposes, I applied the first coat of spar varnish, waited the required 6 hours and applied the second coat to the still tacky surface. With the second coat applied I had my son help me erect a kind of tent over it so the dew would not get on it while it dried over night.
Day five and the end is in sight! A little sanding with 100 paper and the third coat of varnish is applied and its really starting to look good.
All that remains is deciding on a decent woodworking vice that doesn't cost a small fortune and can be dressed in some way to withstand being out doors all year in the Florida weather.
Of course I now have a whole new problem. Its too pretty to get all scarred up! Just how long before you get past the fear of that dreaded first scratch on a workbench?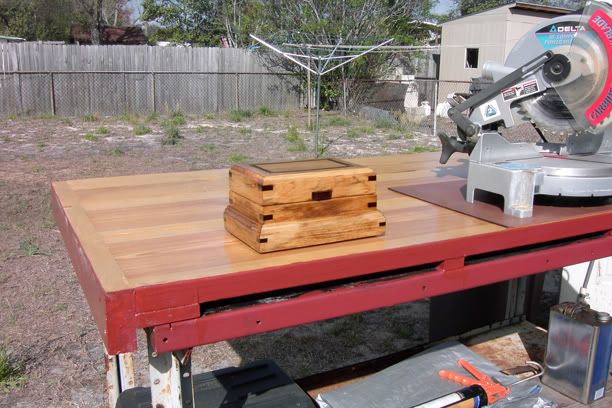 Notice the piece of protective hardboard under the chop saw?
BTW, that small box on the table took me over 5 months to make. It is just a test to see if I could still operate my machines as I went through therapy and regained some of my strength. I actually finished it yesterday and gave it to my son who thinks its extremely cool. Go figure...
Its made from wood reclaimed from pallets and some kind of extremely hard black wood I got from the exotic cut off bin at a local lumber yard.
---
If Woodworking is so much fun why isn't it called WoodFUNNING?
I've made a few videos
http://www.youtube.com/user/johnnie52
Senior Member
Join Date: Jan 2011
Location: West Texas
Posts: 291
My Photos
That top looks pretty darn nice. Nothing wrong with that at all! I am not familiar with the marine grade varnish but although it may be to withstand the elements, what would you think about tarping the whole thing when you aren't using it? Might even help keep your wifes potting soil, supplies, tools out of the elements. Just a thought. Thanks for sharing your project with us.
Take care.
Scott
Forgotten but not gone
Join Date: Oct 2006
Location: Texas
Posts: 5,689
My Photos
Johnnie, I applaud your tenacity and I appreciate your story. Your son is blessed with a good dad. And don't worry about scratches on the bench - by all means make as many incidental gouges in it as you can! That's how you make pretty boxes like that. Keep on Chooglin' brother.
.
Splinter Picker
Join Date: Jan 2011
Location: Albuquerque
Posts: 859
My Photos
Johnnie,

That's a beautiful bench. I really respect you brother! A stroke can be catastrophic and you refuse to lay down. Awesome!

I had a heart attack at age 44 and by the grace of God I lived to see 45. The Dr. Told me that 85% of people that suffer the kind of coronary I did don't survive. I had another in 08 and made it through that one too. Since then I have mountain biked Moab,Utah, backpacked the high plateau's of southern Colorado and the Rio Grande Gorge in Northern New Mexico.

I guess my point is. DON'T TAKE NO FOR AN ANSWER! You are on your way to a complete recovery my friend!

You've got what it takes you stubborn, willful SOB and you've got the loving support of an outstanding woman.

You cannot lose!

At the risk of sounding trite I must say that my thoughts and prayers are with you and I know that you have many, many productive and happy years ahead of you.

Jeff




re
WWW = WannabeWoodWorker
Join Date: Jan 2011
Location: South of Atlanta
Posts: 36
My Photos
Very nice job on the top! Now that is some serious encouragement for those of us who haven't had problems to get out to the shop and do better work. Your top and box look way better than anything I have done so far!

Thanks for the kick in the rear.
Senior Member
Join Date: Feb 2009
Location: Tampa, FL - USA
Posts: 3,391
My Photos
Thank you for the kind words and compliments. This recovery has been long and at times very frustrating. We are now at 9 months since the stroke and while I can do more things now, I tend to get very tried really fast. So most of my shop time is spent sitting and resting, but I just refuse to give up. I've gone from being in a wheelchair, to a walker, and now using a cane unless I'm going somewhere where there are a lot of people milling around like the mall or the VA. My Webble is broken... one wobble and I fall down...
Firewalker, I used to cover the table with a trap but found that the trap tended to trap more moisture and cause the wood to warp faster. That is why this time I decided to use the marine spar varnish and just leave it open. The varnish is the same kind that is used on the decks of some of the boats that spent most of their time exposed to the salt water of the Gulf of Mexico. I talked to a few of the owners of these boats and they pointed me toward the Cabit spar varnish as being what they use to keep their decks in good shape.
As for the wife's potting table, its got its own weather tight storage for all of her stuff.
---
If Woodworking is so much fun why isn't it called WoodFUNNING?
I've made a few videos
http://www.youtube.com/user/johnnie52
---
Last edited by johnnie52; 03-01-2011 at

08:46 AM

.
Posting Rules

You may post new threads

You may post replies

You may not post attachments

You may not edit your posts

---

HTML code is Off

---